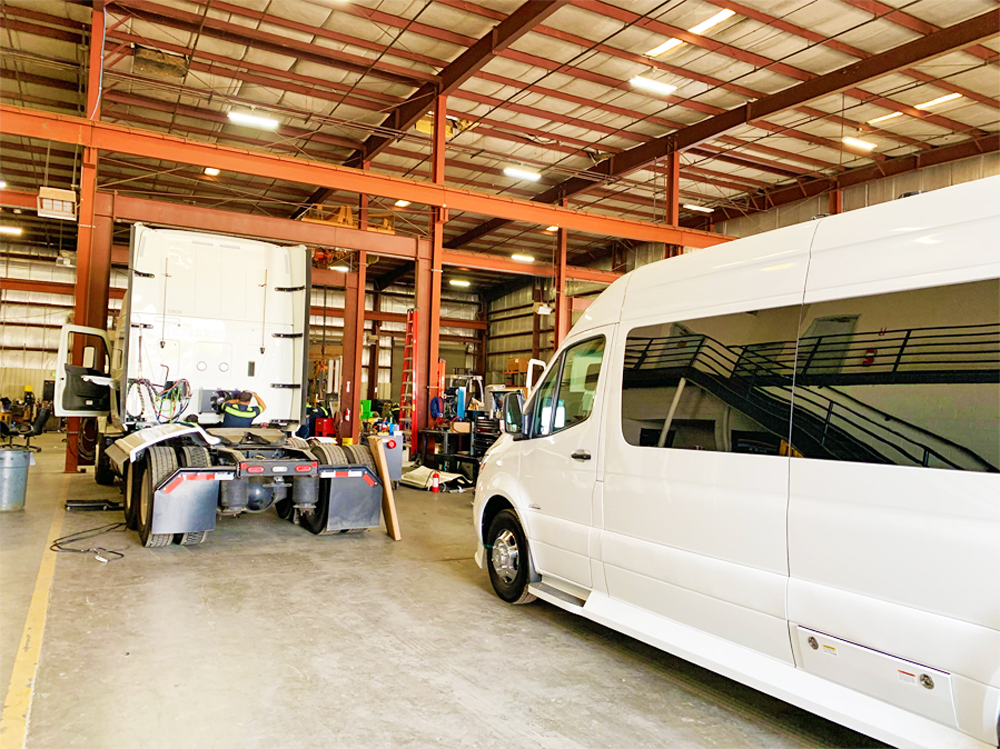 The Importance of Keeping Your Big Rig and Delivery Vehicles Clean
In general dirt, debris, and grime from the road attaches to components of your big rig trailer and delivery vehicles which can interfere with their proper operation.  Many fleet owners know and understand the importance of power washing your trailers on a regular basis, despite if you own a refrigerated trailer, a dry van or a flatbed truck.  In fact, it is standard practice to calculate this expense as part of your maintenance routine, whether you handle the washing in-house or you hire professional trailer power washing specialists.
Big rigs and delivery vehicles are under continuous assault from acids, bird droppings, insect & animal remains, miscellaneous gunk, road salts and other contaminants.  In the road war against corrosion, grime and muck, the best strategy to combat the assault is keeping a clean fleet.  A clean truck makes it easier for drivers and trailer repair technicians to notice things like chaffing lines, electrical problems, cracks and damage to components. If components, parts, systems and sub-systems are covered in a layer of dirt or grime, problems are much harder to spot.
Something that has become a wide sensation is the cleaning and disinfecting of your cab.  Cleaning the inside of your big rig is nothing new, but in recent news as we're living in a worldwide Covid-19 pandemic, sanitizing the interior of your cab has become of upmost importance.
Many times truck drivers spend more time inside their cab and on the road than actually at home.  Basically it is their home away from home, which is also used for eating and sleeping.  Sometimes in such a confined space, it makes it difficult to keep things tidy.  However, reports have indicated routine sanitizing can help reduce the spread of Coronavirus.
Some basic tips to keeping the cab of your big rig clean are:
Throw the trash out and get rid of unnecessary items at every stop

Organize your belongings in your cab and in your sleeper

Vacuum regularly

Clean the glass windows

Check your air filters

If using rubber floor mats, hose them down with soap and water

Remove stains from your seats

Wipe down all the surfaces, this includes the steering wheel, gear shift or selector, all driver switches and controls, door handles (interior and exterior), and your dashboard

For electronics such as tablets, touch screens, keyboards, etc., remove any visible contamination by following the manufacturer's instructions
Wiping and cleaning out your cab is one thing, but due to our unprecedented times, it may be a good idea to give your cab a full detailing service with disinfectant products.  You may do this yourself or hire a professional detailing service, but make sure you or your detailer are using the proper products to disinfect.  For one, avoid bleach inside your cab, these are recommended products and time the products should sit wet before it is wiped off:
Ethanol wipes: 5 minutes

Lysol disinfecting wipes: 10 minutes

Lysol disinfectant spray: 10 minutes

DS1 Signet Neutral Disinfectant: 10 minutes
Sonsray Fleet Services, the largest Thermo King and Trailer Repair Dealership on the West Coast, is offering a disinfecting fog spray and wipe-down service for delivery vehicles, big rig cabs & sleepers– currently only offered at their San Leandro, CA location.  Although Sonsray Fleet Services does not offer trailer and vehicle power washing services at their locations, they do offer a reefer coil cleaning service with their preventive maintenance plans, where they pressure wash the coils.  Contact them today for more info.
All in all keeping the outside of your big rig clean can help prevent you from getting called for DOT inspections.  Although no one can control who gets summoned for inspections, a filthy truck definitely raises red flags.  A clean truck also displays professionalism for your company and the driver.  Plus, a dirty truck can be full of health hazards like mold and pollen.  By keeping your truck inside and out clean, you are keeping yourself or your employees healthier as well.