An insulated bulkhead is a thermal barrier in a trailer, truck body or van that separates fresh, frozen or dry goods. This allows multiple temperatures in one vehicle, or the reduction of cooled space to reduce energy consumption.
We carry some of the top brands in the industry to help you make your deliveries quickly and economically. Insulated bulkheads come in different materials, sizes and usage. We can install in different forms your insulated bulkhead to accommodate your needs. From one-piece to three pieces; lightweight to load bearing; with a door, curtain or window; portable or on a track system...the possibilities are endless.
PRIMAIR™ INSULATED BULKHEADS
THE BEST OF BOTH WORLDS
The PrimAir Insulated Bulkhead is designed and constructed for exceptional durability at an extremely light weight. Easy on loaders and easy on drivers!
FEATURES:
• 3" closed-cell core that prevents bacteria growth
• EPP foamcore is 100% recyclable
• Integrated flexible impact liner that reduces damage during loading and unloading
• Heat-welded seams that seal out moisture and bacteria • Scuff guard minimizes damage to bulkhead
• Zero fasteners in the impact zone eliminate damage to scuff guard • Limited warranty
• Weight: Less than 65 lbs. at a height of 102 in.
Custom Made For:
Improved efficiency – more deliveries with fewer units
Improved food safety – access only the compartment you need (food grade surfaces)
Improved driver safety – unload tow or three lanes from rear of trailer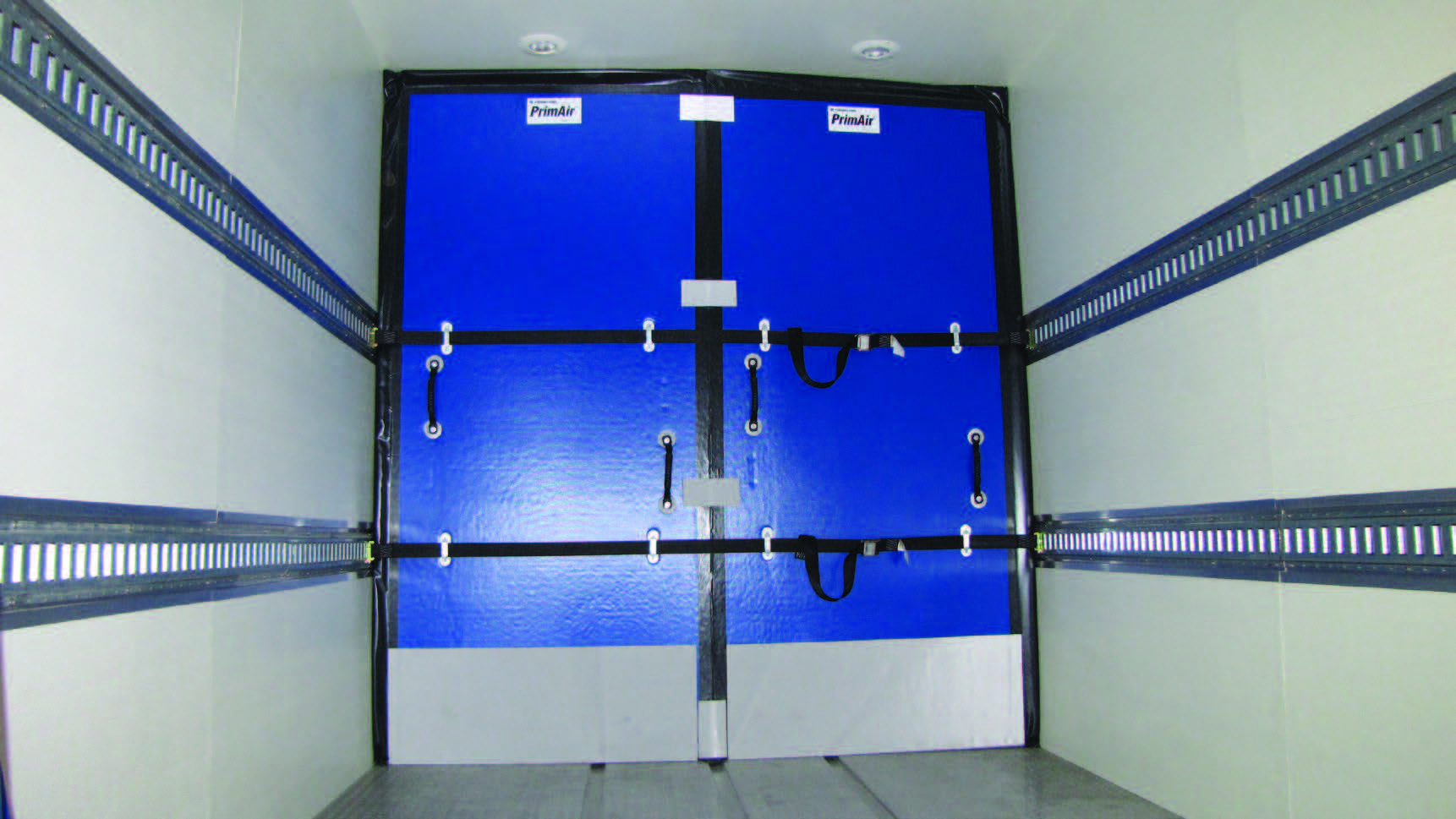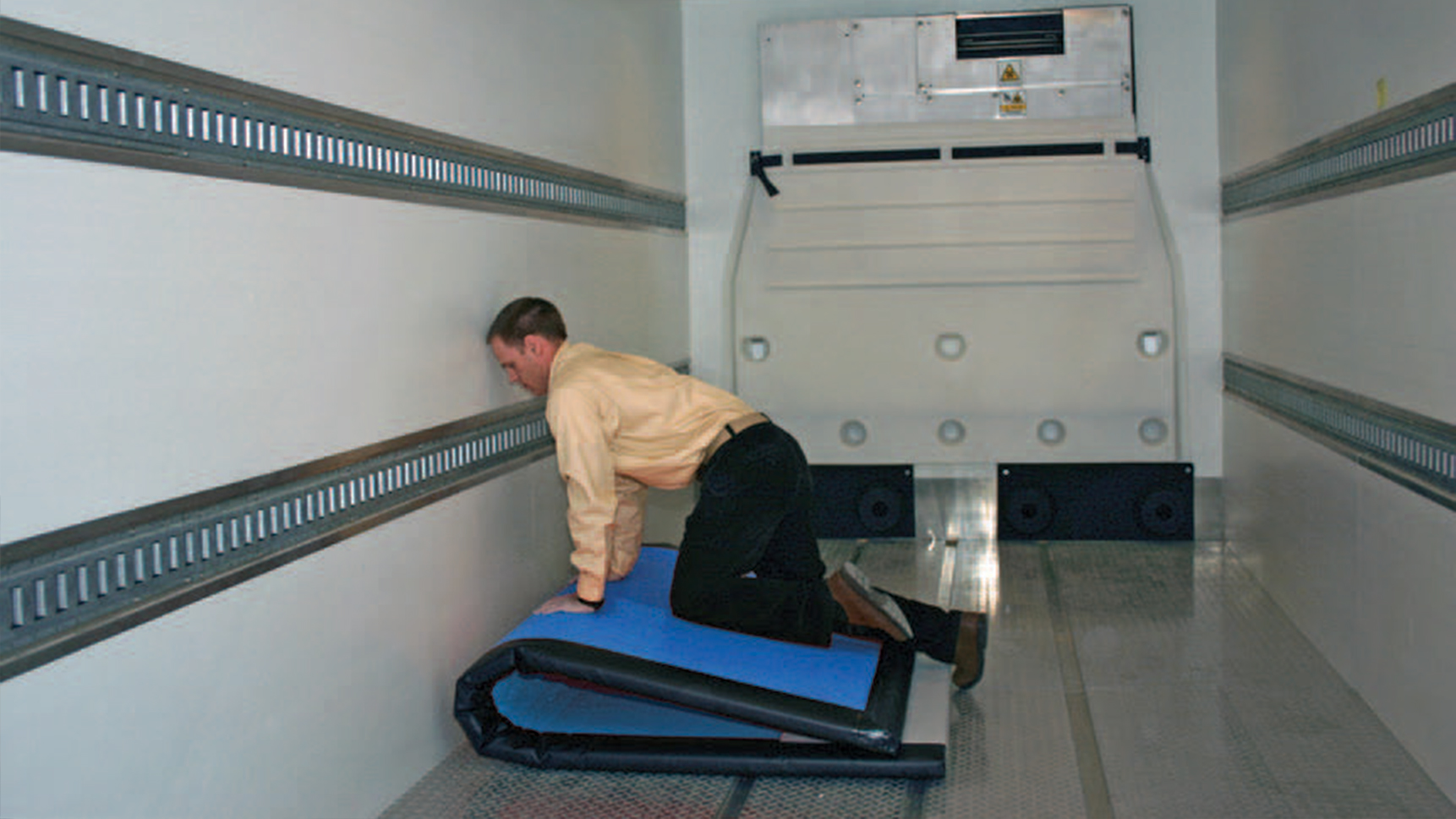 Maximize Efficiency and Temperature Control With
PRIMAIR™ AIR MANAGEMENT PRODUCTS
Proper airflow from the refrigeration unit in a trailer is critical to ensure even temperature distribution within the trailer. The use of chutes is critical to prevent top-freeze in produce hauling, and using a return air bulkhead helps reduce the risk of short-cycling. The full line of PrimAir chutes, return air bulkheads and insulated bulkheads can be used to ensure optimal airflow and even temperature distribution, reducing hot spots in a trailer that can negatively impact the quality of the product being transported.
WHY USE CHUTES?
• To reduce temperature variance within a trailer
• To prevent top freeze on produce
• To deliver airflow throughout the trailer and ensure a consistent temperature for protection of the load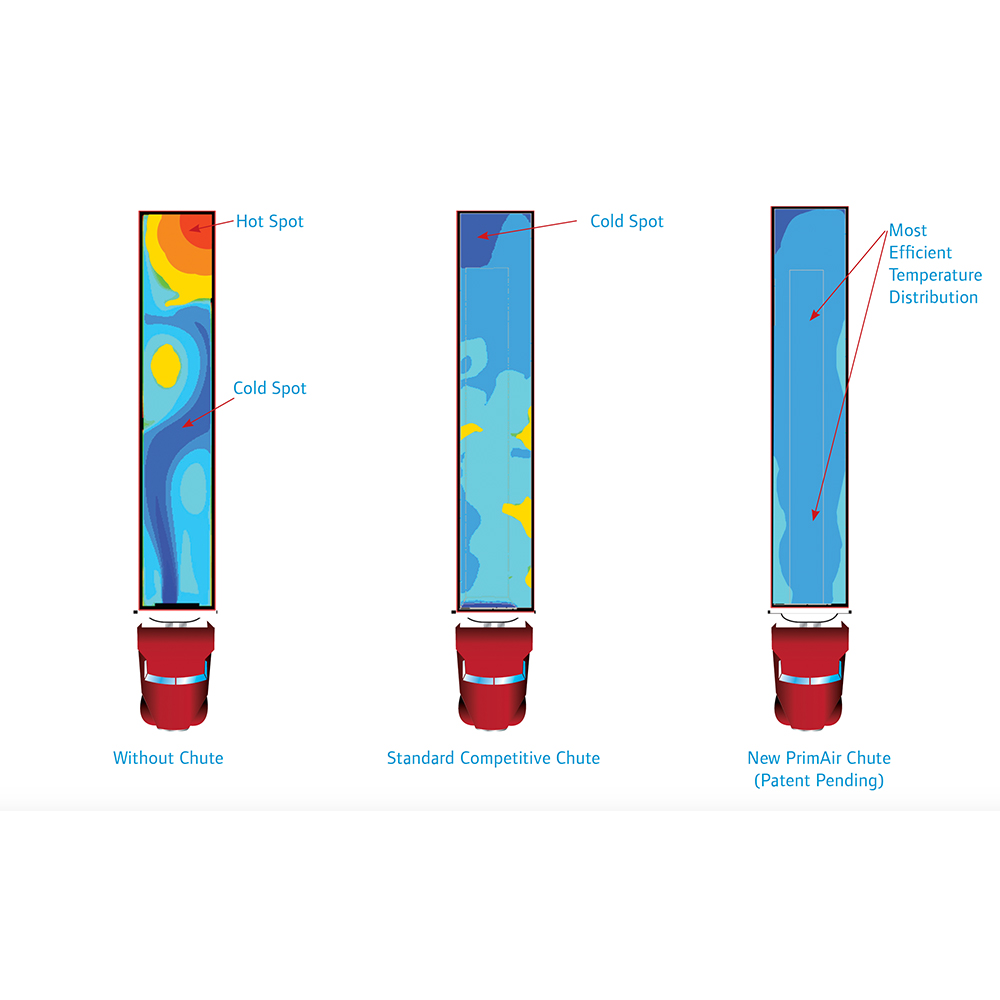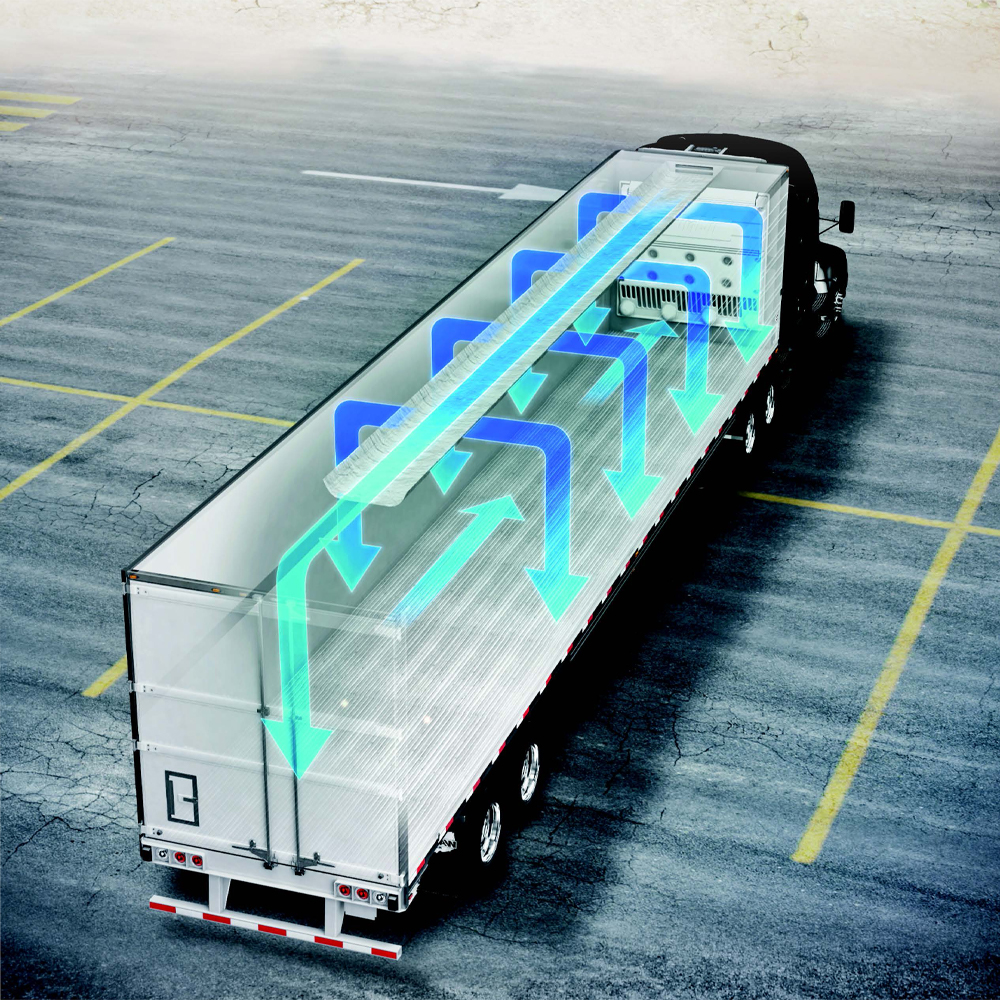 PRIMAIR CHUTE SYSTEMS FEATURES:
• Ramped, mesh discharge end to prevent chute tear-down during loading
• Drive rivets and spacers included* – Spacers create side-air discharge, minimizing temperature variance throughout trailer
• Industry-leading tear strength and tensile strength for long life and durability
• High quality, easy-to-clean materials
• Heavy-duty brass grommets for easy installation • 10 ft of velcro included on end of chute for minimizing chute damage during loading
• Full velcro chutes feature ramped mesh end and full-length velcro for maximum protection against damage during loading
• All adapters come standard with velcro attachment
PRIMAIR™ RETURN AIR BULKHEADS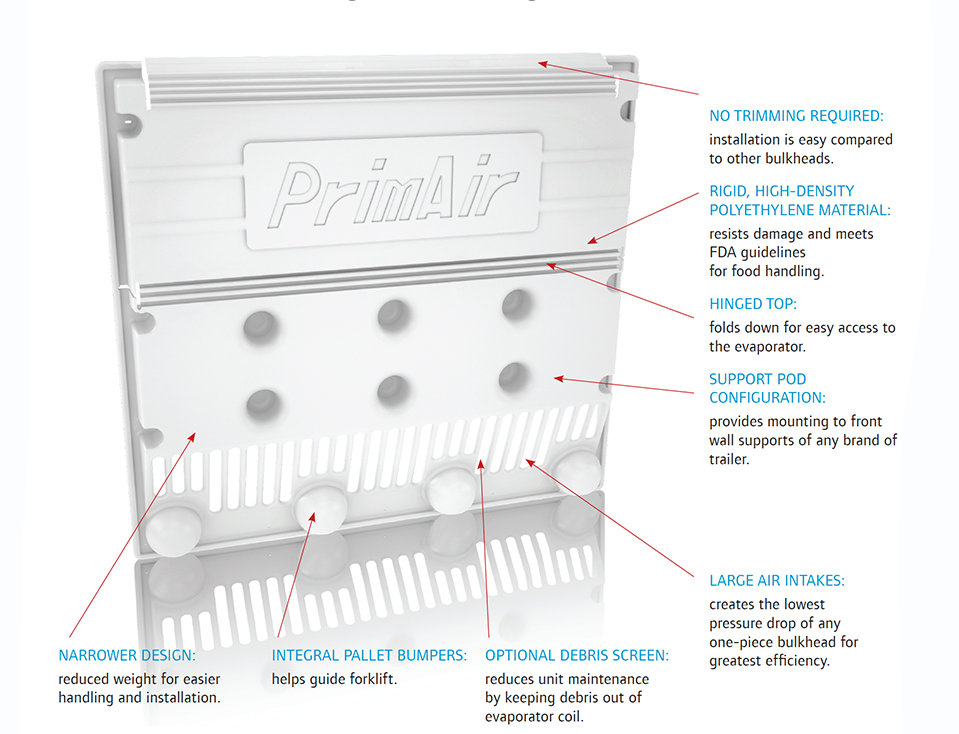 ONE-PIECE RETURN AIR BULKHEAD
The PrimAir return air bulkhead was designed to work perfectly with Thermo King's Precedent units. While the bulkhead is compatible with older Thermo King and Carrier® units, it has been optimized to deliver the best airflow possible from the Precedent unit.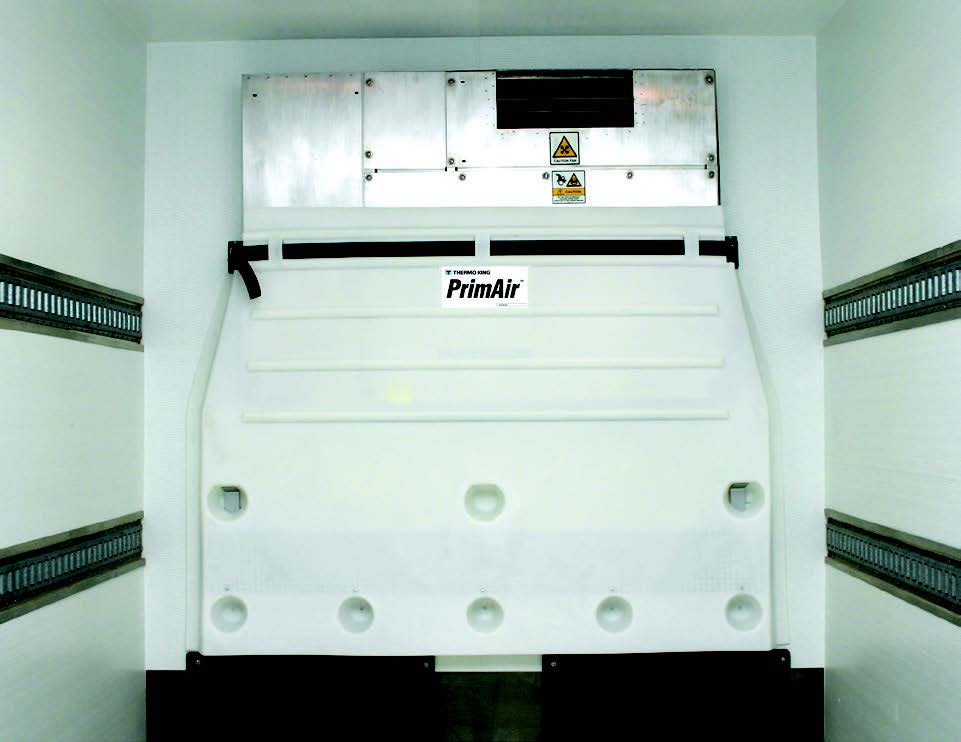 TWO-PIECE RETURN AIR BULKHEAD
Reduce short-cycling and maintain uniform product temperatures with this easy-to-use bulkhead. It takes less than one minute to remove the bulkhead to access the refrigeration unit. Replace pallet stops as needed without replacing entire bulkhead. No tools needed!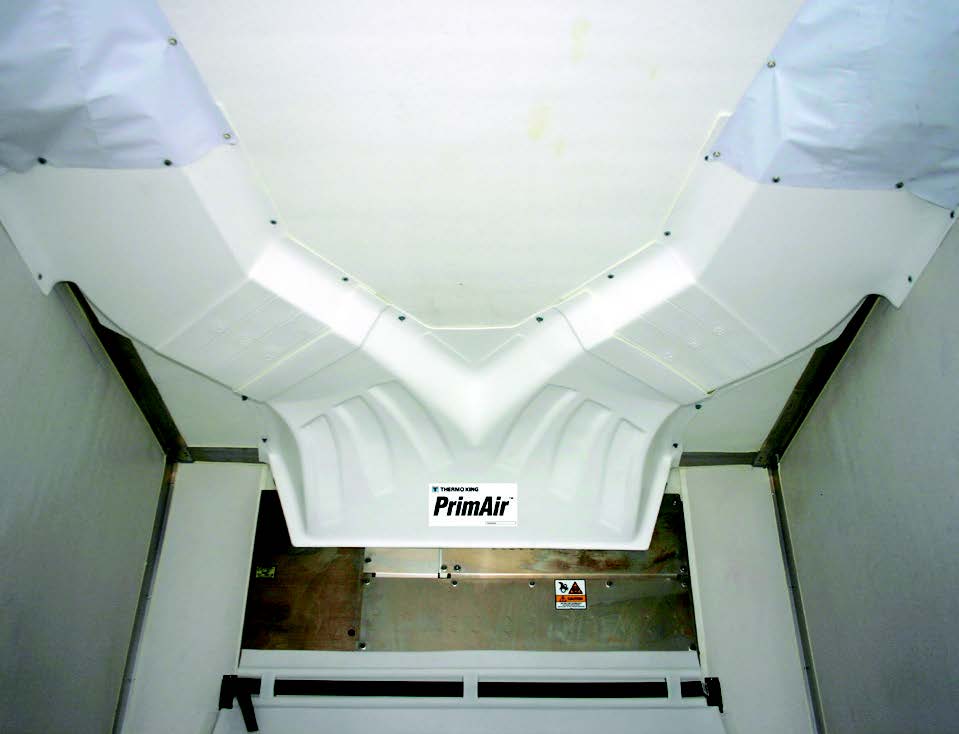 SPLIT AIR CHUTE SYSTEM
The PrimAir Split Air Chute System is designed to provide uniform temperature throughout the entire trailer. The unique diverter evenly distributes air to each side chute, which then guides the air to the rear of the trailer.